If you're a nature enthusiast and enjoy attracting hummingbirds to your backyard with feeders, you may be worried about the potential for rats to be attracted as well.
It's a genuine concern, as rats are known to be attracted to food sources, and hummingbird feeders can certainly provide an easy meal for them.
Read on to find out if hummingbird feeders really attract rats, and how you can prevent rat infestations at your feeders.
Do Hummingbird Feeders Attract Rats?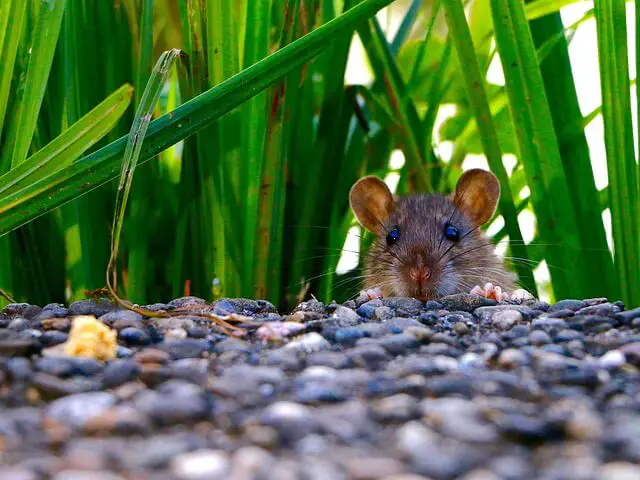 As a general rule, hummingbird feeders don't attract rats, and it's usually safer to use in an area where rat infestation is common. Rats are fond of bird seed, and so they typically get attracted to a bird seed feeder than a hummingbird feeder.
But that said, precaution is advised because rats are occasionally attracted to sweet nectar. And rats have great smelling power.
If they find the nectar from the hummingbird feeder an easy treat, it's possible that they will not think twice about climbing up to the feeder.
So one of the best ways to keep rats away is to hang your hummingbird feeder at a height.
Keep the feeder 5 ft. above the ground.
Also, try to keep the hummingbird feeder 12 ft. (horizontal) distance away from any other structures from where rat or squirrels could jump.
| | |
| --- | --- |
| Animals | Max Horizontal Distance They Can Jump |
| Rats | 4 ft. |
| Squirrels | 10 ft. |
As you can see, squirrels can jump up to 10 ft. while rats can jump up to 4 ft. So keeping a horizontal distance of 12 ft. around the hummingbird feeder from trees or any platforms (like roofs, cloth lines, etc.) will protect the hummingbird feeder.
Pro-Tip: Use a baffle like this one (available on Amazon), and install it on your pole. It will prevent rats, squirrel, or other animals from climbing up the feeder.
Other than that, also attach a top baffle like this one (available on Amazon) above the hummingbird feeder to ensure no pest or animal can directly jump on the feeder from top.
Let's have a closer look at some of the ways you can keep rats away from hummingbird feeders.
How To Keep Rats Away From Hummingbird Feeders?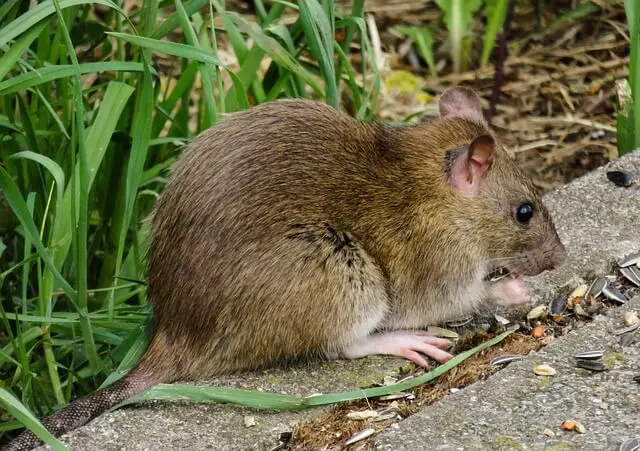 To properly maintain a hummingbird feeder and keep rats away, follow these steps:
Clean your feeder regularly: Make sure to follow a routine of cleaning your hummingbird feeder at least once a week to remove any old, fermented nectar that could attract rats. Use a mixture of hot water and vinegar to thoroughly scrub the feeder, and make sure to rinse it well to remove any residue.
Replace the nectar solution frequently: The nectar solution in your hummingbird feeder should be replaced every few days to prevent it from spoiling and attracting rats.
Secure your feeder: Make sure to securely fasten your hummingbird feeder to prevent it from being knocked down or damaged by rats. This can be done by hanging the feeder from a hook or using a sturdy bracket to attach it to a wall or post.
Use a feeder with a rat guard: We already discussed in the previous section how you can use baffles and hang the feeders at a height to prevent rats from accessing the nectar solution. If you're worried about rats, consider purchasing those accessories.
Place your feeder in a less accessible area for the rats: Rats are less likely to venture into areas that are difficult for them to access. Consider placing your hummingbird feeder in a location that is not easily accessible to rats, such as on a high shelf or in a hard-to-reach corner of your yard.
By following these steps, you can help ensure that your hummingbird feeder stays clean, well-maintained, and free from rat infestations.
What Animals Are Attracted To Hummingbird Feeders?
Hummingbird feeders can be an awesoe way to attract these beautiful birds to your yard, but they can also attract other animals as well. Here are some of the animals that are commonly attracted to hummingbird feeders:
Bees: Hummingbird feeders can also attract bees, as the nectar solution can be appealing to these insects.
While bees are not necessarily a problem for hummingbirds, they can be a nuisance for humans. To minimize the risk of attracting bees, make sure to clean your hummingbird feeder regularly and use a nectar solution that is less likely to ferment.
Wasps: Like bees, wasps are also attracted to the nectar solution in hummingbird feeders. Wasps can be more aggressive than bees, so it's important to take steps to prevent them from being attracted to your feeder.
One way to do this is to use a feeder with a built-in wasp guard, which can help prevent these insects from accessing the nectar. Check out the top 9 ways to keep wasps out of hummingbird feeders.
Spiders: Spiders may be attracted to hummingbird feeders due to the presence of insects, such as bees and wasps.
While spiders are generally not a threat to hummingbirds, they can be a nuisance for humans. To minimize the risk of attracting spiders, make sure to clean your hummingbird feeder regularly.
Ants: It is possible that hummingbird feeders could attract ants in certain circumstances. Ants are attracted to sweet substances, and the nectar solution in hummingbird feeders can be an attractive food source for them. Check out the top 4 ways to keep ants out of hummingbird feeders.
Bears: It is possible that hummingbird feeders could attract bears in certain circumstances. Bears have a strong sense of smell and are known to be attracted to food sources, so if a hummingbird feeder is nearby, they can attack the feeder.
Places Where It's Best To Not Hang A Hummingbird Feeder
There are a few places where you should not hang a hummingbird feeder:
Near windows: Hummingbirds are attracted to the color red and may fly into windows if they see it through the feeder.
In areas with strong winds: Strong winds can make it difficult for hummingbirds to feed and may knock the feeder over.
Near predators: Hummingbirds are small and vulnerable to predators such as cats, so it's important to hang the feeder in a location where cats or other predators cannot reach it.
In direct sunlight: Hummingbird nectar can spoil quickly in direct sunlight, so it's best to hang the feeder in a shaded area to keep the nectar fresh.
In areas with high human traffic: Hummingbirds may feel threatened by people and other animals passing by, so it's best to hang the feeder in a quiet, secluded area. Also, it ensures that no one accidentally bumps into the feeder.
I highly recommend you check out this guide on how far apart to place hummingbird feeders in your yard for more insights on this topic.
Overall, it's important to consider the safety and comfort of the hummingbirds when deciding where to hang a hummingbird feeder.
Final Takeaways
In general, as long as you follow proper feeding and maintenance practices, the risk of attracting rats to your hummingbird feeder should be minimal.
However, if you live in an area where rats are known to be present, it is always a good idea to be cautious and take steps to prevent attracting them to your yard.
By practicing proper feeding habits and feeder maintenance, and rat-proofing your feeders, you can enjoy the beauty of hummingbirds in your backyard without worrying about the potential for rat infestations.
Don't let the fear of rats deter you from enjoying these beautiful birds – with a little bit of effort; you can keep both your hummingbirds and your feeders safe.